Give Her The Graduation Gift She is Not Expecting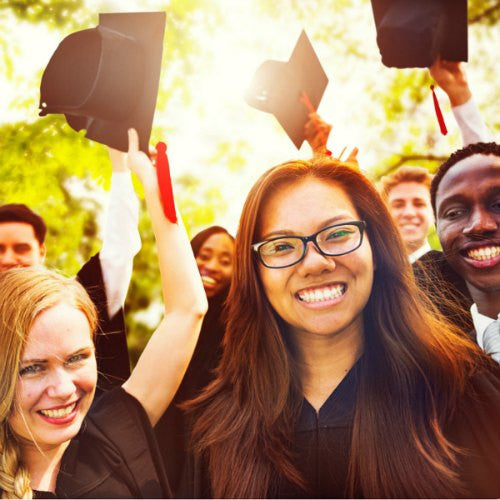 Today's post is by our Marketing Coordinator, Maddy Jones. Enjoy! - Elena
With graduation season here, many mixed feelings appear. There is a combination of excitement, nerves, and uncertainty for what lies ahead. Believe me, as a student going into my final year of university, I certainly know the feeling! After four years of school most people hope that their lives would be totally sorted out, yet in reality this seems to be very far from the truth for most grads. 
Graduation is a huge milestone for everyone and it deserves some acknowledgement. This list of potential gifts incorporates ideas from me and my girlfriends who are going through the graduation process. These gifts are a mix of necessities and fun so you are sure to find something that your grad will love! Happy shopping!
xo
1. A book of to-do's
Help your grad stay on top of her work/life balance by getting her a book to maintain her sanity and organization for short as well as long term plans. 
2. Tickets to an event
Has your grad been dying to go to a big game or a special show? Surprise her with tickets for her and a girlfriend (or maybe that girlfriend is you!) for an amazing experience!
3. Kindle
Is your grad a book worm? A Kindle is able to store thousands of books for instant download right on to the device. This will be a well deserved break from lengthy textbooks and theoretical articles she is used to reading.
4. Scrapbook of memories
Build a collection of memories from an unforgettable trip, a special year, or a short snapshot of their lives! Your grad will be sure to look back on this book and remember the laughs, mistakes, and experiences that were shared.
5. A new experience
Give your grad an experience they won't forget! Provide them with an opportunity to check something off their bucket list! Do you know what's on her bucket list? Ask her - you just might be surprised!
6. A new pair of shoes
A quality pair of shoes is a staple wardrobe piece for your new glamorous and sassy grad. Consider adding a fabulous pair of Girl Two Doors Down flip flops to her shoe collection. Our styles range in colour and style; check them out here: Flat Flip Flops, Platform Flip Flops, and for those with wedding plans in the air, Wedding Flip Flops!
7. Build a personalized relaxation kit
You know exactly what your grad needs to relax. Why not put all of her favourite goodies in a box to create the ultimate unwind package? 
8. A GoPro
A necessary accessory for the adventurous graduate who has big plans for extreme sports, expansive travel, or excellent Instagram posts ;) 
9. Their favourite board or card game
A favourite board game brings back awesome memories from the past while at the same time provides laid-back entertainment for the present. This will be a gift that she will bring out at future family functions and dinner parties with friends. Cards Against Humanity anyone?  (Warning: this game is extremely offensive, as their tagline states: "the party game for horrible people." Check your judgment at the door and triple your humour quotient.)
10. A lesson from a pro on how to create a sustainable budget
Maybe not one of the most exciting gifts, but one of the most necessary. Your grad will thank you months, years, and decades in the future when they live debt-free while building on their nest egg.
11. An outfit for the future
A great outfit is key to success. This outfit might be something that they will start their first day of work in, or travel the world with! Get them clothing they love, that will last, and help them make a great first impression.
12. A family tradition
Whether it's a family heirloom or a secret family recipe- your grad is going to love the thought and effort that went into the assembly of your present.
13. Keurig
Your grad is going to be dealing with lots of early mornings and late nights. Why not make it a little easier on your favourite coffee fiend by getting them one of the most convenient coffee makers on the market!
14. Year subscription to their favourite gym or exercise class
The last thing that your grad is going to want to budget for is a gym membership. Lift this burden off by giving them a year's pass to better mental and physical health. Not sure what she would prefer in terms of exercise? Check out Fawn Gill Fitness and her online programs. Your grad can follow from the comfort of her home, wherever home may be!
15. A professional portrait
Your grad is going to want to remember this period of time for the rest of their life. A portrait of your grad can fit any budget and could be something that can be passed down to future generations.  
16. A gift card for travel
Airplanes, trains, hotels, oh my! The options are endless for this gift and are flexible depending on your grad's desire for travel. Don't forget to pack our celebrity approved flip flops for her and her girlfriends' trips to sunny locations!
17. A set of luggage
A quality set of luggage will endure years of wear and tear. This gift will be taken on amazing trips to fabulous destinations. They will be sure to thank you with each use when all their treasures return home safely with them. 
18. More knowledge
Because we all know that there is always something new to learn! Did your grad just master the fried egg? Why not treat her to a cooking lesson! This will be the kind of learning she will be using on a daily basis. Who knows? You might be the beneficiary of many lovely meals.
19. A subscription meal service
So she gave the cooking a college try and...she can't be perfect at everything! Gift her high quality food that will be delivered right to her door. Ideal for impressing her friends with ~homemade~ meals.
20. The perfect chair
A comfortable and stylish chair will be the focal point of her home. Give her something she will use often as a temple of relaxation.
21. Spend time with your new grad!
What to give someone who has everything they want?! Give them the gift of your time to create new memories that will last a life time! (drinks not included ;))
Congrats to all grads! Which gift would you like? Do you have other ideas you'd like to share? Post it in the comments below and share this post with friends!
78 Responses
Leave a comment