3 Benefits of Wearing Platform Flip Flops for Weddings or Everyday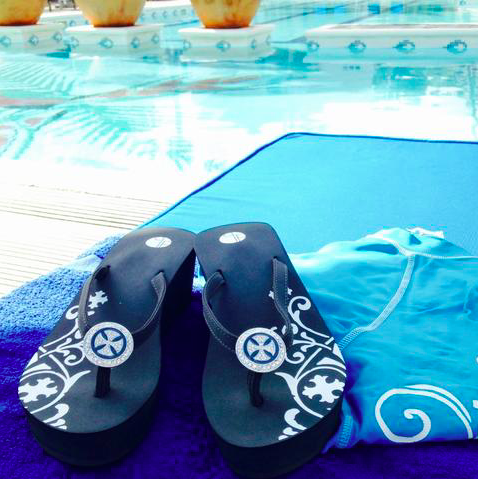 Feeling like a strong, confident lady can be as easy as standing a little taller - both mentally and physically. The no-fuss way? Slip on a pair of platform flip flops for some instant oomph in your step.
Check out our video first to see these designer flip flops up close and then read on below for three reasons to wear platforms everyday or as wedding flip flops.
1. Platform Flip Flops dress up your casual look
Every so often, we all just need a day to kick back, relax, and wear the comfiest clothes we own. Even with your hair tied up and plain white tee, it's great to step out feeling comfortable and flawless. Slip on a pair of diamond ring platforms flip flops for an instant classy spruce-up to your cozy leggings or… dare we say… sweatpants? We don't judge here. We know you still look incredible.
2. Wedge flip flops pick up your hems
Tiny things come in small packages, and for some of us more vertically petite ladies, finding maxi dresses and pants at the right length can be a challenge. No girl likes stepping on a beautiful dress, especially her wedding dress, with every step. If this is you, check out our various wedding flip flop packages. Share the love with your bridesmaids and dance the most important night of your life looking sexy and feeling comfortable! These will give you just the right amount of extra height to pick those hems up off the ground, so you can move around looking fabulous and worry-free.
3. Accentuate your legs
We saved the best for last. The Girl Two Doors Down's favorite reason for wearing platforms is the way they make our legs look long, lean and beautiful. But wait, there's a bonus: platforms can also tone a woman's leg muscles - all the more reason to run all your errands or spend a night out with the girls in these Cross Circle Pendant flip flops. Stand tall, ladies… you're going to be turning some heads.
Why do you love wearing platforms? Let us know in the comments below, send us a Facebook message, send us a Tweet or better yet, show us on Instagram!
100 Responses
Leave a comment