5 Reasons We Love Spring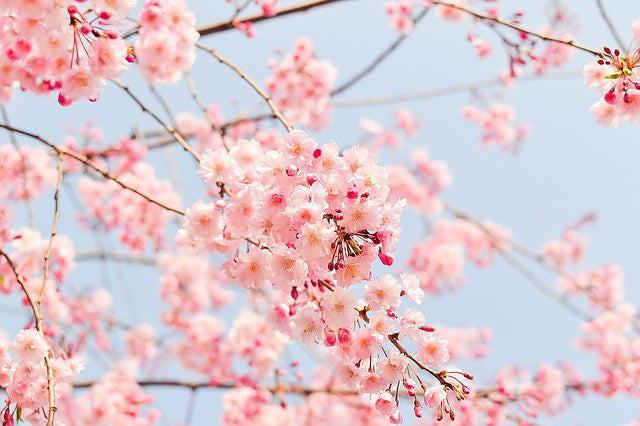 I grew up with palm trees, azure beaches and white sand beaches in the tropics. Heat and sunshine are just something deeply ingrained in my genes. Later on in university, I lived in California, where almost every day is flip flop weather day and winter may involve a heavier sweater or two, but nothing like what a wintry wet, west coast can be like, or the freezing, snowy east coast.
If you're in an area where megadoses of Vitamin D in the winter are necessary to keep you sane, I feel for you. 
The good news is cherry blossoms are in full bloom and we're ready to say goodbye to dark days and cold weather! The first day of Spring has passed, and we at Girl Two Doors Down couldn't be more excited. Here's what we're looking forward to most for the upcoming  season.
1. Longer, sunnier days
Yup, Daylight savings means Spring and we know it was rough to lose an hour of beauty sleep. On the bright side, the extra sun in the evening is hardly a bad tradeoff - this makes more time for happy hour drinks on the patio and evening strolls with lovers and girlfriends. The best part? Leaving the office with a little sunlight to spare. Hurrah.
2. Fresh Spring colors
Not only does the grass get greener, but so does your wardrobe. Put away the dreary sweaters and heavy coats, and check out Pantone's color of the year or try a new snazzy color that you wouldn't usually wear. You just might surprise yourself.
3. Relaxing with a pedicure
Winter is over, so it's time to bring those feet out of layered-fuzzy-socks-in-boots hiding. It's probably been a while, so pamper yourself with a much-deserved pedicure, and get ready for a season of bling flip flops. Looking for some polish color inspiration? Check out Essie's latest collection for some fresh ideas. To top it off, slip on a pair of cute designer flip flops, and you're good to go.
4. Spring cleaning
There's nothing quite like purging your home and closet of the years past. Cleaning can be incredibly therapeutic, not just to make room for your spring and summer wardrobe but because putting away physical clutter helps clear mental clutter as well. A spotless home and reorganized closet is an achievement deserving of a reward, so how about a fun martini? After all, you've earned it. 
5. Summer's right around the corner
What does the Girl Two Doors Down love most about Spring? The fact that its beautiful big sister, Summer, is well on her way. Hello, beaches, ice cream, and cute dresses and new flip flops. It really doesn't get much better than warm nights, al fresco dinner parties, and picnics in the park.
What do you love most about Spring? Leave a reply below and follow us on 
Pinterest
and
Instagram
to share your thoughts!
54 Responses
Leave a comment